A new perspective on the uneven forces shaping today's global economy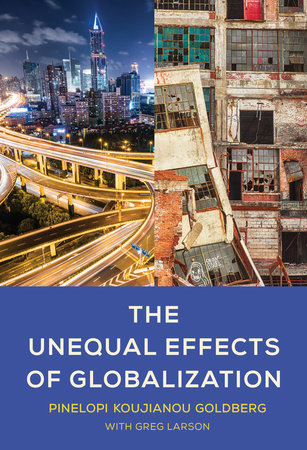 The Yale Economic Growth Center (EGC) is excited to announce the publication of The Unequal Effects of Globalization by Pinelopi Koujianou Goldberg, the Elihu Professor of Economics and Global Affairs and an EGC affiliate. The book was released by the MIT Press on August 15, 2023.
Adapted from Goldberg's Ohlin Lecture at the Stockholm School of Economics in 2019, the new monograph is a succinct and timely exploration of the complex linkages between globalization, international trade, and inequality. Taking stock of recent trends – from the "age of globalization" and rise of China to the decline of manufacturing in the US, recent trade wars, and emerging signs of "de-globalization" – it summarizes the most rigorous recent analysis of trade's effects on outcomes like global poverty, regional inequality, labor markets, and firm profits in low- and middle-income countries as well as advanced economies.
Looking forward, the monograph underscores the power of policy to ensure more equal outcomes in the future. In particular, Goldberg calls for exploring alternative policy approaches to address spatial or geographic inequalities, including place-based policies in regions hid hardest by the negative effects of globalization. She also highlights the importance of targeting inequalities that have arisen from rising firm profits relative to consumers and workers. Further, she underscores the vital importance of sustaining international cooperation, not just for addressing the unequal effects of globalization but also for tackling the world's greatest challenges, including climate change. 
Both comprehensive and accessible, the monograph offers scholars, policymakers, and general readers a nuanced understanding of the highly uneven forces shaping today's global economy – and what policies and approaches are most needed to build a more equitable future.
EGC was proud to support this project and connect Goldberg with Greg Larson, a writer for EGC who contributed to the book.